If you have ever wished you could drive your own vehicle around Victoria's premier racetrack, Phillip Island, then the MSCA Come and Try Day is the perfect event for you.
The Marque Sport Car Association (MSCA) is running an All Come and Try Day at Phillip Island on Saturday 10 December. This year promises to be better than ever with the added opportunity for the experienced sprinter to drive a Formula Vee race car.
The Come and Try Day provides sprint day experience, with both classroom and on-track instruction and coaching.   "We have experienced drivers who act as instructors and coaches for the participants," says Petrina Astbury, facilitator of the event.
Participants attend three information sessions covering a general drivers' briefing, driving techniques and other important relevant matters. In between the classroom sessions participants have two on-track runs with an experienced instructor. Two solo runs complete the day's fun.
"Prior to the event participants are provided with a Come and Try handbook to familiarise themselves with vehicle requirements, an outline of the program and what they need to bring on the day". Says Petrina.
"As well as encouraging new people to participate in motorsport, the Come and Try program gives our seasoned competitors the opportunity to give back to the sport that has provided so much enjoyment over the years."
Formula Vee Drive Experience
The MSCA Come and Try Day will also host a Formula Vee Come and Try experience. In conjunction with the Formula Vee Association of Victoria, the MSCA is offering a unique opportunity for the experienced sprinter to experience the thrill of driving the ultimate grassroots category of open wheel race car.  As part of the day's program, experienced Formula Vee drivers will be conducting training seminars and practical track time.
What Else Is Happening On The Day?
Further to classroom sessions and on track participation there will be trade displays including Penrite Oil, Hankook Tyres, Revolution Race gear and more, providing information regarding all things relevant to grass roots motorsport.  Corporate supporters Famous Insurance will have staff on hand to provide competitive quotes and explain their unique track day insurance policy.  Experienced V8 Super Car driver Cam McConville will be available to provide further insight and knowledge.
How To Get Involved
To enter the All Come and Try Day:
Go to the CAMS Event Entry System via the CAMS website www.cams.com.au.
Set up your profile (hint: if you are not a member of a CAMS affiliated Club: select Come and Try in the Menu).
Go to the event menu and select MSCA All Come and Try Day.
The Cost for the Come and Try day including all information sessions and track time is only $195. Formula Vee Experience is $250.
Who is the MSCA?
The Marque Sports Car Association (MSCA) was first incorporated in the 1970's.  Its primary objective is to organise and promote amateur motorsport participation through supersprints, hillclimbs and driver training for members of its associated clubs and other CAMS licence holders in the state.  The MSCA has a reputation for being one of the best organisers of club-level motorsport in Victoria.
The MSCA have successfully run their Come and Try Program for the past 18 months with over 270 participants experiencing roots motorsport for the first time. Many participants are now CAMS affiliated Club members and are regularly competing in MSCA supersprint events.
For more information regarding the MSCA visit our website www.msca.net.au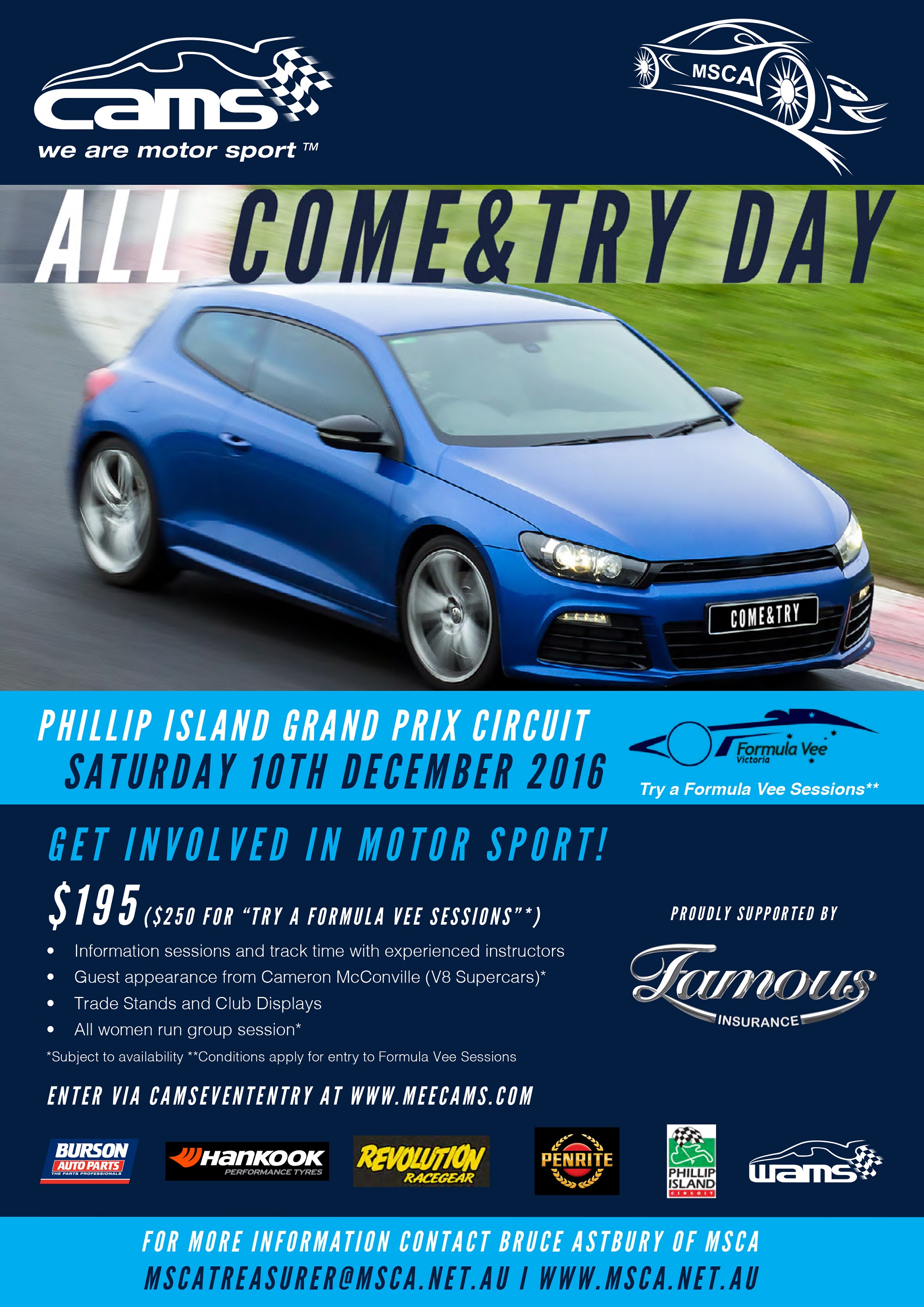 {gallery}gallery/PIGPC/2016_Come_Try{/gallery}